10 Tips for Trucking With Pets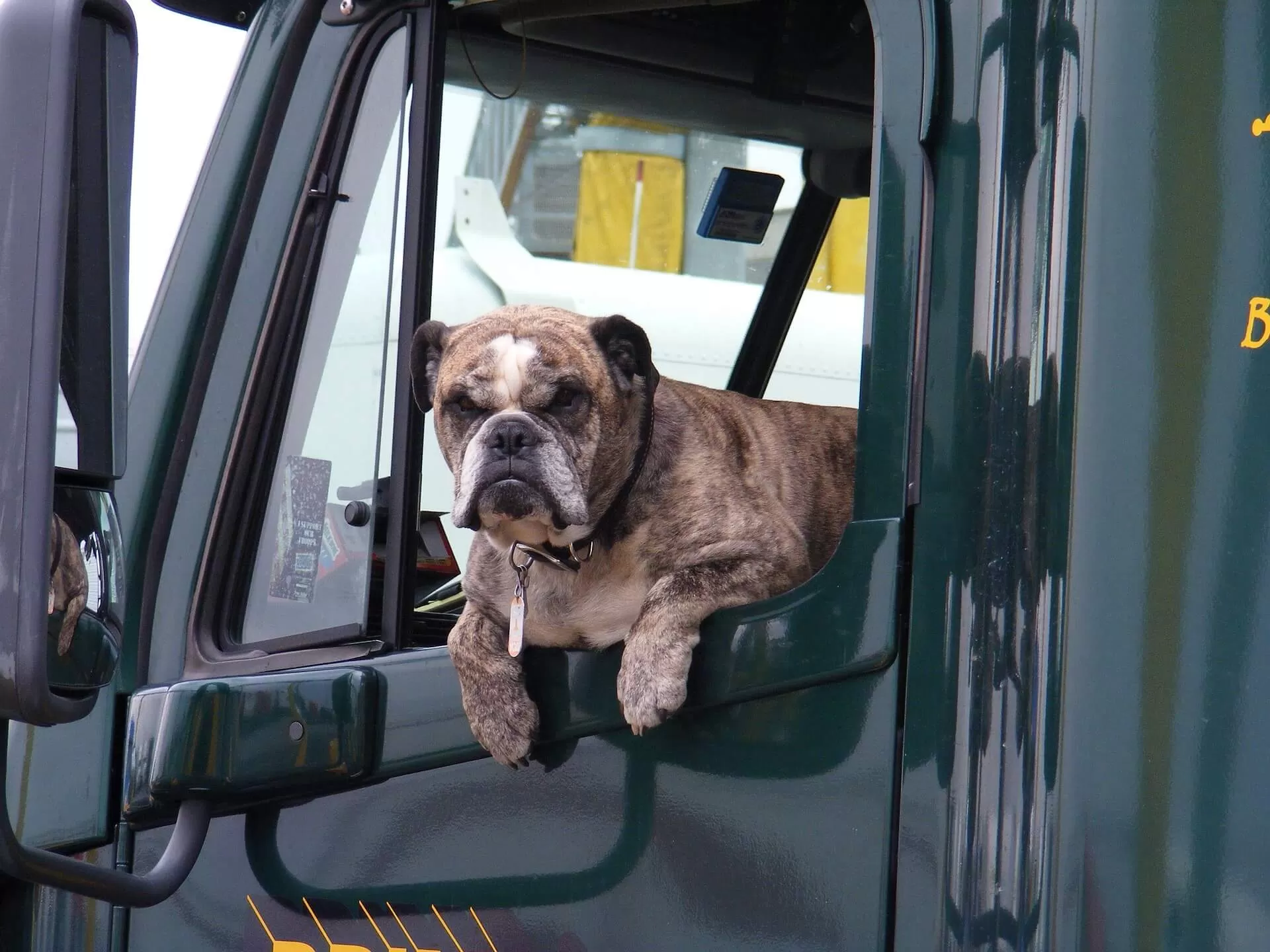 Life on the road can be lonely. That's why a lot of owner operators and company truck drivers decided to have a co-pilot – pet! Of course, it can sometimes be challenging, and not all trucking companies allow pets. But there are many more pros than cons. You should just follow several rules.
Your pet should always wear a collar with the contact information on the tags. There should be your pet name, your name, and phone number. In addition, you can add a phone number of some of your family member or friend, who is not in the truck with you and can answer if something happens (e.g., an accident). This will increase the chances that your dog or cat is returned to you if they become lost. Also, you can microchip your pet.
Always have extra food and fresh water for your pet. Some dogs are sensitive to water changes, so it is better to use the same water, for example, from bottles. You can buy a special water dish that does not splash out of the water. Have several bags of higher-quality pet food that your dog/cat likes and some treats. Sometimes it is not easy to find exactly this pet food in stores that you will meet along the way.
Plan on stopping more frequently. Your dog needs more time outside, some activities, and games. By the way, these breaks will be good for your health too.
Behavior and training of your road dog. First of all, you should train your dog to steer clear of your clutch and breaks and the driver's seat. It is extremely important for safe driving. And if you have a puppy or a kitty, teach them what is permissible and what is not. This will be a little more difficult if the animal is already an adult, but anything is possible. And it would be great to teach your dog not to bark at other drivers walking by the truck. People in other trucks can sleep.
Keep your pet safe on the road. Don't let your pet drink water on the ground at truck stops or fuel islands. Antifreeze, grease, or other chemicals that can be in the water are deadly to animals. And please don't allow your pets hanging their heads out the window during a trip – it can be dangerous. When you are driving, your pet should be strapped in with a harness style safety belt or be in a crate. And when your pet goes outside the truck, it should be on a leash or restraint of some sort.
Schedule regular vet visits and do all vaccinations. First of all, you should always have current health and vaccination records for your pet. BTW different areas have different vaccine requirements. Do not forget to treat the animal from parasites: fleas, worms, heartworms, and others. Always have a first aid kit for your pet. It is better to consult a veterinarian about the contents of this kit.
Don't let your pet alone in a close truck for a long time. Especially in summer – your dog/cat may die due to too high temperature inside the truck. Cold weather can be dangerous for them too.
Keep your pet comfortable. For example, have a blanket for your pet (winter nights can be chilly, not only for you). It will help it feels like at home without anxiety. And of course, your pet should have a soft, warm place to sleep. If you travel with a cat, buy a scratching board. And make sure that your pet has several toys to play with while you're driving. Especially if your dog likes to chew on something (this will keep your belongings safe).
Choose the right breed. If you just want to have a dog, we advise you to pay attention to this dog breeds:
Pug;

Labrador Retriever;

Chihuahua;

Miniature Pinscher;

Bulldog;

Miniature Schnauzer;

Miniature Poodle;

Yorkshire Terrier;

ShihTzu;

Boston Terrier.
Be aware that many companies impose size and breed restrictions on pets.
10. Register your dog as an emotional support animal. In this situation, you will be able to take your dog in most of the places, shops, etc. Just don't forget to take your service animal ID card everywhere. Read more about this opportunity here.